Q space: A New LGBTIQA+ Family Counselling Service & Family Support Network to be established across Victoria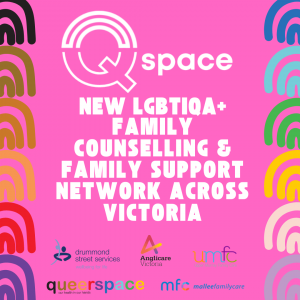 Drummond Street Services and its community service partners; (representing rural and regional communities) are thrilled to announce its success in receiving funds from the Victorian State Government to establish a new LGBTIQA+ Family Counselling service over the next four years.
The Qspace network includes Anglicare Victoria (Gippsland, Bendigo/Kyneton), Mallee Family Care (Mildura), Upper Murray Family Care (Wodonga) and Drummond Street Services – Queerspace (Geelong, alongside our existing Melbourne locations).  It is our combined expertise and reach that will ensure this additional counselling support connects with LGBTIQ+ adults and young people and their families within their communities.
Drummond Street Services is leading this program, has long advocated for the need for additional support for LGBTIQA+ people to feel safe, affirmed and connected by both their families and within their local communities.
Since establishing our counselling and groups for LGBTIQA+ people in the 1960's and our many years of working with and alongside LGBTIQA+ people, we have seen the impacts that family conflict, abuse, rejection, discrimination, and lack of acceptance of people's identities, including who they are and who they love, can have on people's longer-term mental health, safety and wellbeing.
Therefore, we are so pleased to expand Queerspace through this Qspace network, to share our knowledge and work with local communities, as a way of offering individuals and families more choice and access to support that affirms them.
The Qspace network will provide specialist family counselling services for lesbian, gay, bisexual, trans and gender diverse, intersex, and queer people of all ages, their families, and communities.
Karen Field, CEO of Drummond Street Services & queerspace said:
"It is well-known and accepted that the rates of LGBTIQA+ people with poorer mental health continues to be alarmingly high, often linked to experiences of homophobia, biphobia and transphobia, with so many systems and services failing to respond quickly or recognise the unique experiences of LGBTIQA+ people.

Furthermore, emerging from Covid19's 2020 lockdown we have also seen the mental health impacts on many LGBTIQA+ people escalate.  This is confirmed by our recent research report, 'There's no safe place at home: Domestic & Family Violence affecting LGBTIQA+ people (2020), which shows there must be continued investment for both specialised services who have the expertise and knowledge, as well as supporting 'mainstream' local services focused engagement for local LGBTIA+ people and families.

The establishment of this Qspace network means that no matter where someone is seeking support, they know it is safe and inclusive.  Demand for this type of family-focused support remains high, the Qspace network is an important contribution in providing more safe supportive spaces, sharing knowledge and local connections".