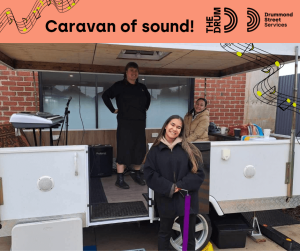 Welcome to the Caravan of Sound, where children and young people can unleash their creativity and make some noise! Our vibrant mobile space offers a super fun and safe environment for music-making, singing along to favourites, and even learning about songwriting and musical equipment.
We are proud to have received support from esteemed organizations such as The City of Melbourne, FReeZA, Department of Health, SONY Music, and THE DRUM Youth Services, who have helped us bring this exciting initiative to life.
The Caravan is a pop-up camper trailer with open-air sides, ready to be transported to any location within 40 meters of a power outlet and flat accessible ground. Rain or shine, we're prepared with a large tarp to cover the caravan, and we can also park it under available cover if necessary.
Our versatile Caravan of Sound is available for use by various programs within Drummond Street and can be scheduled to visit public housing estates, schools, and community groups. Inside, up to five people can perform, while outside, we provide four stools for comfortable seating and leaning in while using microphones and other equipment. Speaking of equipment, we have you covered with a laptop equipped with Ableton software, a Behringer 1204 USB mixer, Behringer B110 D Monitors, a Pioneer XDJ RR DJ desk, Audio Technica ATM20 headphones, and a selection of musical instruments.
Ready to experience the Caravan of Sound? Booking is easy! Simply contact Mukhtar on 03 9663 6733 or email enquiries@ds.org.au
Join us on this musical adventure and let your creativity soar with the Caravan of Sound!