What is it?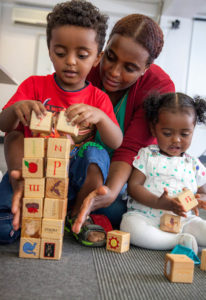 "Ready, Steady…. FAMILY!" is an innovative program launched by drummond street services in 2019 that is client centred and focused on meeting the needs of new parents (and those having subsequent babies who would like it to go better next time). The transition to parenthood can be tough, those first 12 months usually includes a complete renegotiation of roles, an adjustment of parents' identity, and a need for co-operation most couples have never faced previously. It also offers a whole lot of joy as families adjust to a new way of life. Drummond street has a team of professionals ready to meet the needs of those welcoming a new baby into the family including:
Perinatal specialists in mental health to provide counselling
Parenting Support for the everyday issues such as eating, sleeping, routine, practical help and information on topics of client's choice
Men's workers offering the "Ankle Biters"- Dads groups on a Saturday morning
Group facilitators to support with the big issues of parenting
Social workers for practical help with housing, finances or legal problems
Family violence workers if things are tough in that way
And musicians who can just run session to make you laugh!
Who is it for?
Ready Steady…FAMILY! has 4 elements to affect change in families and prevent mental health issues from impacting or increasing.
Fun groups and seminars including a FUNKY BUBS group for parents and kids to boost happiness and feelings of competence and self esteem.
How do I make an appointment?
If you are interested please call Sinem on 9663 6733 or email rsfintake@ds.org.au to find out more or book.