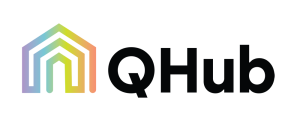 QHub aims to create safe spaces for LGBTIQA+ young people in Victoria.
Our goal is to provide mental health and wellbeing services tailored specifically for LGBTIQA+ young people, allowing them to access welcoming and inclusive support when they need it, close to home.
QHub is funded by the Victorian state government, who put their trust in a team of organizations with a strong track record of working with LGBTIQA+ communities to create and run two landmark safe spaces for LGBTIQA+ young people. Drummond Street Services is leading the partnership with Cafs (Child and Family Services Ballarat) and Wellways to deliver this exciting project, with two physical spaces in Geelong and Ballarat, along with outreach services for young people on the Surf Coast.
QHub is committed to driving inclusion and equality for LGBTIQA+ communities as a part of Pride in Our Future: Victoria's LGBTIQA+ Strategy 2022–32. The appointment of key positions and the call for community committee members represent an exciting opportunity for the community to get involved and help shape the direction of the initiative.