Parents with disabilities: Tips to make your home more functional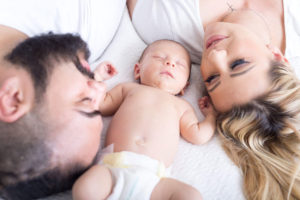 By Ashley Taylor
Becoming a parent is one of the most significant life changes you will experience. You need to prepare your life and your home for this monumental occurrence, and you may not know where to begin. Modifying your home is a must for any parent-to-be, but it is even more critical if you live with a disability.
Install Grab Bars in Bathrooms
Bathing a child is fun and frustrating all at once. Holding onto a slippery little body is not easy, and it becomes even more difficult as your baby begins to splash and wiggle around in the tub. While bath time should be fun, it also poses a danger to you and your child. In fact, The New York Times reports that the most hazardous activities for all ages in the bathroom are bathing, showering and getting out of the tub or shower: "Injuries in or near the bathtub or shower account for more than two-thirds of emergency room visits."
Another study shows that 73.8% of bathroom injuries in children under the age of 15 were caused by falls, and the highest rate was for injuries occurring in or around the shower or bathtub.
That's why people benefit from having grab bars inside the tub and shower and where you need to hold on to get in and out. You will make bath time safer for your child and yourself when you install bars in the correct places. Your physical therapist or occupational therapist can recommend the location that is most helpful to your needs, but The Family Handyman shares some general guidelines for grab bar placement:
Place an 18-inch to 24-inch long bar vertically at the tub edge, with the bottom of the bar 32-38 inches above the floor.
Mount a bar at an angle between wall studs on the long back wall of the tub, with the bottom of the bar about 6-10 inches above the top of the tub.
Mount a bar horizontally about 36-38 inches above the bottom of the tub as a handhold for showering.
Remove Tripping Hazards
New parents are exhausted. If you have mobility challenges or limited sight, remove all tripping hazards from your home before your baby arrives, so you can reduce the chances of an accident while carrying him. Begin by removing worn carpeting that is peeling. Eliminate throw rugs or replace them with non-slip rugs.
Another option is to put carpet tape on throw rugs to anchor them in place, especially if you place an area rug in your baby's nursery. Also, place non-skid mats or non-slip appliques in the bath and shower and non-slip adhesive strips on slippery stairs.
One of the best ways to remove tripping hazards is decluttering your home. Arrange furniture to allow for clear walking paths and remove items from floors by putting them where they belong. Do not put decorative items on stairs. Add lighting to stairways and other dark areas of the home by using nightlights or hiring an electrician to install new light fixtures.
Place electrical cords baby monitors, lamps and other appliances along baseboards or behind furniture. Create areas in your home for baby toys, blankets and other items and always put items away when they are not in use. Avoid placing baby swings, bouncers and other furniture in walkways.
Label Food Clearly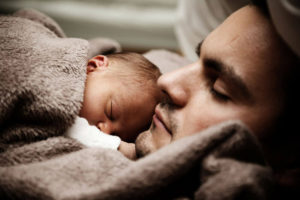 If you have limited vision, organize food in cupboards and pantries to make it easier to determine which is which. Consider putting your baby's formula, rice cereal and juice in a dedicated area. When your child is old enough for baby food, label it with textured tape, brightly colored tape, extra-large lettering, or Braille labels, so you can tell the containers apart because they are all the same size and shape. Try organising the vegetables on one side and the fruits on the other to make it easier to distinguish between foods of similar color.
Becoming a parent is one of the most thrilling times in life. Make sure it also is one of the safest by modifying your home to make caring for your child easier. Begin by installing grab bars in bathrooms, removing tripping hazards, and labeling food clearly.