What is queerspace?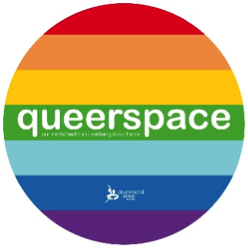 queerspace provides a safe and supportive space to obtain information and support services aimed at improving mental health and wellbeing by specialist queer and queer affirmative mental health practitioners.
What queerspace offers
Individual, couple and whole-of-family counselling
Relationship and parenting support services
Better Access counselling program
Youth counselling, support and groups programs
Group education and information community programs and;
Peer support and social activities
What makes queerspace unique is:
Qualified and experienced mental health professionals
Queer affirmative services by LGBTIQ and queer friendly practitioners
Low cost or no cost counselling based on the capacity to pay
Accessible and flexible services and hours
Sensitive to the diversity of our communities and individual's needs, including sexual and gender identities
Evidence based approaches
Pathways to care through Access to Allied Psychological Therapeutic Services (ATAPS) on behalf of Inner North West Melbourne Medicare local (INWMML)
Promoting Wellbeing & Supporting Relationships
Building strong, healthy relationships can be a challenge when dealing with issues relating to intimacy, communication, conflict, parenting and families.
LGBTIQ individuals, couples and their families often have additional stresses on their relationships – i.e. coming out, parenting, families and navigating medical and other service systems. Promoting wellbeing through counselling, relationship and parenting support can help to strengthen relationship and parenting skills.
queerspace also supports important peer and social connections through group education and queer events.
queerspace recognises like heterosexual couples that LGBTIQ couples have similar and in some cases higher rates of family violence.  We provide support and services to queer victims and perpetrators of family violence through our QRespect program.
Pathways to care
queerspace offers a pathway to care that includes counselling for individuals and families experiencing, or at risk of, mental health issues such as anxiety, depression, alcohol and drug use.
queerspace can also offer short-term psychological counselling, in partnership with Inner North West Medicare Local's (INWMML) Access to Allied Psychological Services (ATAPS) program. This program aims to address moderate mental health conditions based on a treatment plan by a General Practitioner (GP).
We also support queer youth
queerspace is committed to supporting LGBTIQ youth through specialist counselling, peer support and community learning activities, to have a voice in the development of programs and activities, to connect to supportive peers and be part of positive youth-led initiatives.
How do I make an appointment?
We have a whole of family and community-based approach. So you might contact us as a parent of a young queer person, or a couple looking for support, as a single parent, or as someone questioning their own sexuality. You might see us for personal counselling, parenting classes, seminars, or to join a facilitated group.
Call us: 03 9663 6733