New research finds LGBTIQ+ Victorians have faced increased risk of family violence during the COVID-19 pandemic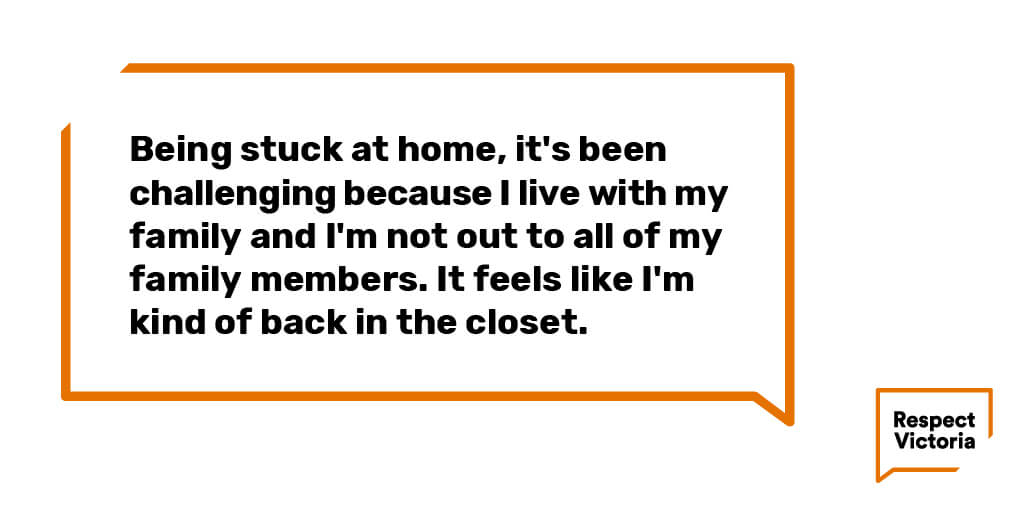 A report commissioned by Respect Victoria has found that LGBTIQ+ Victorians, particularly those experiencing health, social and economic inequalities, have faced increased challenges during the COVID-19 pandemic, increasing the risk of family violence.
Conducted by drummond street's Centre for Family Research and Evaluation in partnership with The Gender And Disaster Pod (GAD Pod) the research was commissioned to gain an understanding of the impact of disasters on LGBTIQ+ communities with a focus on family violence prevention.
Minister for Prevention of Family Violence Gabrielle Williams said the Andrews Labor Government was proud to support the research.
"It's vital we understand the impacts of such disasters on different communities so we can better tailor our support and systems in the future," she said.
"We must work together as a community to call out homophobia, biphobia and transphobia, and the harmful attitudes and behaviours that can lead to family violence."
The research was carried out between June and September 2020 and encompasses interviews with LGBTIQ+ community members and service providers.
"LGBTIQ+ people are experiencing multiple and compounding forms of discrimination during the pandemic," said drummond street Chief Executive Officer Karen Field.
"This project responds to a gap in knowledge around the impact of disasters on marginalised communities and is designed to support the development of family violence primary prevention policies, programs and resources to support LGBTIQ+ people in disaster and emergency situations," Ms Field said.
The study found that LGBTIQ+ young people are facing multiple layers of disadvantage, particularly those who moved home with family due to economic circumstances.
One participant said: "Being stuck at home, it's been challenging because I live with my family – and I'm not out to all of my family members. It feels like I'm kind of back in the closet."
"It's extremely important that both family violence and disaster planning, and recovery policies and programs acknowledge the impacts of disasters on LGBTIQ+ people, including increased risk of LGBTIQ+ family violence," said Liam Leonard from the GAD Pod.
Researchers found that trans and gender diverse people are also facing increased vulnerabilities, as are those experiencing overlapping systems of discrimination based on race, ability and age.
Issues highlighted included decreased mental health, increased community surveillance, racism, restrictions on access to gender-affirming medical services, and job losses.
"The pandemic has highlighted and amplified family violence risks globally, and this report evidences increased risk of family violence for LGBTIQ+ people," said Respect Victoria Chair Melanie Eagle.
Family violence can occur in all relationships, including LGBTIQ+ relationships and families of origin.
"We can all take responsibility for addressing harmful behaviours that lead to discrimination and inequality," said Respect Victoria CEO Tracey Gaudry.
"Small actions can include calling out slurs or language that stigmatise LGBTIQ+ people, addressing gender stereotypes that might exist in your home or workplace, and talking to kids early about pronouns and identities," said Ms Gaudry.
Research participants highlighted a few silver linings, including increased access to support services online and improved connections to communities. This was particularly important for LGBTIQ+ people with disabilities and those living outside of major cities.
One participant said: "I feel really connected in, and I'm hoping that some of that can remain, because I don't feel so alone now living in a rural town away from a lot of people."
The report includes several recommendations to inform Respect Victoria's work on the primary prevention of family violence in LGBTIQ+ communities.