Celebrating Step and Blended Families on National Stepfamilies Day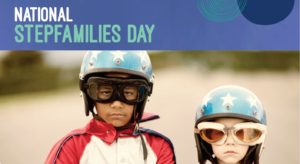 How do we acknowledge the hundreds of thousands of Australians who are either living in or are a part of a stepfamily?!  Did you know we have a NATIONAL STEPFAMILIES DAY??  It is held every year on the last Sunday in July, this year that will be Sunday 29th July!
Those who care for children, despite not having the biological and legal recognitions that parents have deserve recognition and celebration! National Stepfamilies Day is a day to recognise ALL family types despite our difference.  It also recognises that step and blended families are the FASTEST growing family type in Australia!!  In America Step and blended families make up nearly half (46%) of family types and we are closely following with 1 in 4 families being step or blended!! It is seriously the new normal and despite how negative "step" sounds we all have to start embracing it and learning and understanding the structures around these family types that make them so unique!!
Will you celebrate on National Stepfamilies Day??  If so, we want to know how!!  How will your family celebrate and/or acknowledge its awesome differences? Let us know on our facebook page here: https://www.facebook.com/stepfamiliesOZ/
At Stepfamilies Australia we understand the uniqueness of step and blended families.  We understand that with a little support and help you can actually improve all your relationships however complex they might be.  We also understand the struggles and at times how challenging these structures are! We have spoken to and counselled thousands of step and blended families and have come up with some really awesome tips and tools on our website http://stepfamily.org.au/tip-sheets/parents/
Things you could do to celebrate National Stepfamilies Day:
Have a family picnic (at the park, in your back garden etc.)
Organise a day out (museum, zoo, markets etc.)
Go camping
Go out to your favourite café/restaurant
Have a games day/night, play your favourite board games
Make special cards for each member of your family and let them know how much they mean to you
Cook together, make something special and share it all together
Make up a family song
Make your own family movie (you could do this every year then have movie nught to watch them)
Play sports
Make a family calendar or scrap book
Have a PJ party
Come up with your own family symbol/crest or mascot!
We know that many families won't be able to celebrate on the actual day.  Try not toworry about that!  Make it about the 'getting together' not the actual day itself! Change the day to suit your family if needed! Whatever you choose to do acknowledge how far your family has come, and if you are on social media share it to our Facebook Page https://www.facebook.com/stepfamiliesOZ with the #stepfamilydayAUS
Stepfamilies Australia have written a book for early readers about a 10 year old boy who goes through the process of becoming a stepfamily.  A great read for early readers and brilliant to read together as a family! For more information on Ossie's World Upsidedown head here: http://stepfamily.org.au/book/ossies-world-upside-down/
We also built an app – MyMob – www.mymob.com – the app allows family members to communicate virtually even when physically apart; sharing photos, messages and information, like you might do across the family table, but in a safe, online environment. We are also really keen to hear from you! What would make stepfamily life easier? What would you like to see more of for Stepfamilies? Email at info@stepfamily.org.au or reach out on our Facebook page https://www.facebook.com/stepfamiliesOZ