At drummond street services, we value equity and social justice. We aim to provide trauma- informed, recovery-oriented counselling and support services to people who have been affected by the Disability Royal Commission that are accessible, client-focused and meet the needs of people with disability, their families and carers. You can learn more about drummond street services' history here and our purpose here.
What are we?
We are a service providing confidential, free, independent counselling and support services for people affected by the Disability Royal Commission.
We support people with disabilities, whether you have a 'formal diagnosis' or not. We support family members ('family' as defined by you – i.e.,  family of origin and family of choice), close supporters or carers, and disability support workers.
We explain more about what that means below.
Who are we for?
We define "people with disability" broadly, and "people affected by the Disability Royal Commission" broadly.
People with disability, family and carers:
We know people have different relationships with the idea of "disability", and we will respect what you tell us about yourself. You don't have to describe yourself as disabled to access this service.
This service is for:
All people with disability, including:

People who have not yet, or do not wish to, undergo formal medical diagnosis;
People who have impairments or ongoing chronic conditions of any kind, including mental health conditions;

People who do not wholly identify as a disabled person, including:

People who identify as neurodivergent/neurodiverse;
People who identify as d/Deaf or Hard of Hearing;
People whose relationship with disability is complicated.
This service is also for the people who support any of those people, including:
Informal carers and supporters;
Families of all kinds, including family of origin and family of choice;
Current or former paid workers or volunteers in the disability sector.
People affected by the Disability Royal Commission
The Disability Royal Commission is happening right now. It was established to find out more about abuse, violence, neglect and exploitation of people with disabilities, and to make recommendations about how to make things better.
The deadline for Disability Royal Commission submissions is the 31st of December 2022.
There will be upcoming Public Hearings in Melbourne: 24 – 28 October 2022 and another on 29 October hearing about the experiences of violence against, abuse, neglect and exploitation of people with disability from culturally and linguistically diverse communities.
You do not have to make a submission to the Royal Commission to access this service.
This service is for people who:
Are thinking of making a submission to the Disability Royal Commission and would like emotional and practical support during this process; and/or
Have experienced violence, abuse, neglect or exploitation, or issues that they feel are connected to these; and/or
Are experiencing difficult feelings because of the Royal Commission.
The commission is interested in things that happened recently or a long time ago.
It will investigate and report on experiences and conditions in all settings and contexts, including:
schools;
workplaces;
jails;
group homes or boarding houses;
family homes;
hospitals;
day programs;
public spaces;
anywhere else.
For more information about the Disability Royal Commission, follow this link.
You can also learn more about our services via the Easy Read Guide here. Information in different languages can be found here.
Access and accessibility
We know being accessible doesn't just mean a ramp at the door, and that it is different for different people.
We will work with you to understand your access needs and barriers. This includes discussing or exploring what tools, interpreters, support or changes we can make to allow for meaningful participation. Understanding that people's access requirements might change over time.
This includes taking COVID-19 and physical distancing into consideration. We are currently supporting people using phone, email, or video calls. When we are permitted to go back to in-person services, we will talk with you about accessibility to enable a COVID-19 safe return to home-based or office-based sessions.
What do we do?
This program exists because of the Disability Royal Commission, we know people affected by the Royal Commission might also want help with other issues. We know different people want and need different kinds of support.
We will talk with you to figure out what kind of support is right for you.
Our support and our approach is informed by your needs, your stories and experiences.  Our program is co-designed by a group made up of people with disability, advocates and formal and informal supporters, whose role is to ensure the centring of people with disabilities and their experiences is maintained in everything we do. We also would like to ensure that people affected by the Disability Royal Commission have direct contribution to a service relating to them.
The Co-design Committee will also support our service to:
Establish a collaborative network with other services and community providers as well as disability-informed research and evaluation processes.
Enhance our ability to provide intersectional supports particularly to marginalised cohorts of people, such as First Nations People, People of Colour, LGBTIQA+ and rural or regional areas
Support and participate in disability-informed evaluation processes.
For more information email: disabilitysupport@ds.org.au
We can offer support such as:
Counselling, including trauma-informed counselling focused on telling your story and experiences, as well as healing and recovery.
Helping with submissions to the Royal Commission, through emotional support, information, and/or practical help;
Helping people with advocacy or case work;
Helping people find and link up with other services or groups;
Supporting people's own decision-making processes;
Multidisciplinary team;
Advocacy
Our assistance is flexible; we can work with you over just a few sessions or over a longer period time, depending on what is right for you.
If you have any questions, or you are not sure if we are the right service to help, don't hesitate to contact us to ask.
Who works in this service? How are people with disabilities involved?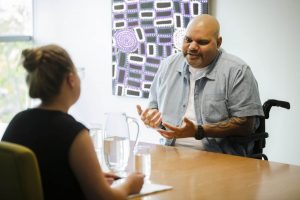 We are independent and separate from the Disability Royal Commission.
Our team aims to reflect and values the diversity of experiences, skills, qualifications, age, identities,  and abilities – across our counselling, case support, advocacy and community engagement and connections.  We have practitioners with relevant qualifications and workers with disabilities.
drummond street is committed to services that are co-produced and co-designed with you.  This program is guided by a Co-Design Committee made up people with disability, advocates and formal and informal supporters of people with disabilities. The committee meet frequently to discuss the programs running.
How to make an appointment and ask for more information
If you would like to discuss how we can support you, please get in touch with us:
Phone: (03) 9663 6733 – if you need an interpreter, we can organise one for you. You can also call us using the National Relay Service.
Email: disabilitysupport@ds.org.au
You, or someone supporting you, can talk with our workers about how to make sure we are meeting your access needs.
If you contact us, you will first connect with an intake worker, who will talk to you about your needs. They will help connect you to us. They may also be able to recommend additional services that might be helpful for you.
Coronavirus (COVID-19) information and support for people with disability
For further information about drummond street services' COVID-19 responses click here.
For tip sheets and activities to cope with COVID-19 related restrictions click here.
While you are here, we want to let you know about a different service that might be relevant to you:
There is a new Disability Information Helpline for people with disability, their families, carers, support workers and services who need help because of coronavirus (COVID-19). The Helpline runs Monday to Friday 8am to 8pm (AEST) and Saturday and Sunday 9am to 7pm (AEST) and can be accessed by calling: 1800 643 787. The Helpline will help connect people with the right service, give reliable and accessible information, or can provide phone based counselling for emotional support follow this link.