Trans Day of Remembrance – We can't wait 'til it's too late!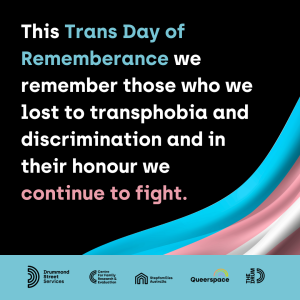 As Trans Day of Remembrance is fast approaching, we want to send our love, solidarity, and support to the many amazing trans folk and a special call out to Trans Women who have been targeted with misogynistic hate recently.
At Queerspace/ Drummond Street, we see firsthand how this plays out via our clients and peers, we want to say we see you; we are here for you and stand with you. Keep fighting.
As we remember the trans people lost to transphobia and discrimination this Sunday, let's not wait until it's too late and stand with our Trans friends, families and loved ones today.
Karen Field, CEO of Drummond Street Services, said
"We can't stand by while the incredible trans folk we say we love and care for are being targeted.  The LGBTIQA+ communities have a long history of struggle, and we must enact that sense of solidarity at this time!  The far-right politicians' hate speech is bad enough; let's not add to it and stamp it out before we lose any more of our Trans loved ones."