REFUGEE WEEK EVENTS IN THE GEELONG REGION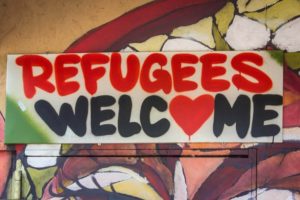 Monday June 18 – South Geelong Pivotonian Cinema @ 7:30pm-9pm
The Staging Post – Film Screening
The Staging Post follows two Afghan Hazara refugees, Muzafar and Khadim. Stuck in Indonesia after Australia 'stopped the boats' and facing many years in limbo, they built a community and started the school which inspired a refugee education revolution. A real-life, real-time, multi-platform documentary. The Staging Post is about friendship, connection and the power of community. Supported by Combined Refugee Action Group, Pivotonian Cinema, South Geelong
Book here: https://www.tickettailor.com/events/thestagingpost/170837
Monday June 18 – Geelong 6-7:30pm
Short Film Festival
A free event, showcasing a collection of short films created by refugee young people from Geelong, acknowledging and celebrating the diversity of Geelong. Festival provided by City of Greater Geelong.
Book here: https://www.eventbrite.com/e/refugee-week-film-festival-tickets-45711374953
Tuesday June 19 – Geelong, All Saints Anglican Church @ 6pm
Community Conversation
All Saints Anglican Church will host a #RightTrack facilitated conversation for people to learn more about the issues facing people seeking asylum. Do the current policies reflect your Christian values? Are they fair and just? What changes would you like to see?
Supported by ASRC, Combined Refugee Action Group and Greater Geelong Youth with Refugees
Location: All Saints Anglican Church 113 Noble St, Newtown @ 6:00 pm
Free event. Supper provided.
Bookings: (03) 5223 1118
Tuesday June 19 – Torquay Hotel 6:15pm
Curry and Conversation
Surf Coast Rural Australians for Refugees will host a #RightTrack facilitated conversation for people to learn more about the issues facing people seeking asylum. Supported by ASRC.
Where? Torquay Hotel – 6.15 pm arrival for 6.30 pm start
Book here: http://www.torquaycommunityhouse.org.au/righttrack-conversations.html
Wednesday June 20 – Barwon Heads Bowls Club @ 7:30pm 
'Hear our Stories' involves refugees from the Geelong region coming to tell people about their experiences as refugees. Bellarine for Refugees are working with Diversitat who have trained the speakers to be able to tell their stories in public forums.
Where? Barwon Heads Bowls Club, 18 Geelong Rd, Barwon Heads @ 7:30 pm
Tea and coffee will be provided. Gold coin donations gratefully accepted.
Thursday June 21  – Geelong Library @ 6:30pm to 7:30pm.
Meet and hear former journalist and writer Shokoofeh Azar discuss her novel 'The Enlightenment of the Greengage Tree'. Forced to leave Iran with her family in 2011, she was accepted as a political refugee by Australia; Shokoofeh has made her home locally. Her extraordinarily powerful novel has been short-listed for this year's Stella Prize and is set in Iran as a reimagining of the 1979 Islamic Revolution. Shokoofeh will discuss her book, written in the lyrical magical realism style of classical Persian storytelling, with John Bartlett, member Surf Coast Rural Australians for Refugees
Where? Geelong Library @ 6:30pm to 7:30pm.
Book here: http://www.grlc.vic.gov.au/whats-on/shokoofeh-azar-enlightenment-greengage-tree
Thursday June 21 – Torquay Library @ 6:30 – 7:30pm
Torquay Library, together with Spring Creek Community House and Surf Coast Rural Australians for Refugees, bring you Bronwyn McNamee and Gerry Baldock who were employed on Nauru from 2011 to 2015. They will share their experiences and their understandings of what is happening for refugees still on Nauru, those who have been moved from Nauru, and those who are in Indonesia on the way to Australia but were stopped by the 'Boat arrivals will never settle in Australia' policy.
Where? Torquay Library @ 6:30 – 7:30 pm
Book here: https://www.eventbrite.com.au/e/refugee-week-torquay-library-tickets-46309468868
Friday June 22 – Geelong College Dining Hall
Diversitat will be hosting a major Fundraising Dinner at the Geelong College Dining Hall, Talbot Street Newtown. It will be an evening of amazing cuisine and personal stories of rising above extreme adversity. Diversitat's case work service for Asylum Seekers provides information, referral and needs-based assistance for people seeking asylum who are not eligible for other federally funded support.
Where? Geelong College Dining Hall, Talbot Street Newtown
Book here: https://diversitat.org.au/withrefugees-refugee-week-fundraising-dinner/
Sunday June 24 – Queenscliff Town Hall @ 1:30pm
Human Flow – Film screening
Over 65 million people around the world have been forced from their homes to escape famine, climate change and war in the greatest human displacement since World War 11. Human Flow an epic film journey led by internationally renowned artist Ai Weiwei gives a powerful visual expression to this massive human migration. This Refugee Week screening is presented by the Borough of Queenscliffe with all funds raised supporting:
Queenscliff RAR's Legal Appeal, assisting people seeking asylum with legal or interpreter cost associated with their protection claim applications
Queenscliff Uniting Church's, Light Up A Life Appeal, raising money to fund weekend holiday camps in Queenscliff for refugee groups.
Where? Queenscliff Town Hall @ 1:30 pm
Book here: https://www.eventbrite.com.au/e/refugee-week-fundraiser-screening-human-flowby-ai-weiwei-tickets-45791648052