Course Summary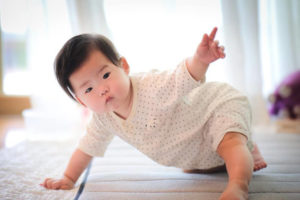 A fun mix of baby massage and baby yoga. Suitable for parents/grandparents/carers and bubs up to 12 months.
Come along and learn some great calming techniques from our accredited infant massage trainer Amanda, then stay for afternoon tea and a chat if you like afterwards.
Don't worry if your baby needs a feed or a nap during the session, we also have baby dolls to practice techniques with. (You don't even have to bring baby if that's easier, but we'd love them to come!)
Bring a towel and a baby blanket, we will be using cold pressed avocado based massage oil.
---
Course Sessions
Questions about this course? Call (03) 9663 6733 or email enquiries@ds.org.au
This is now a free Zoom session. You will need a warm room, an old towel and some massage oil - even olive oil will do!