Ready, Steady… Family! program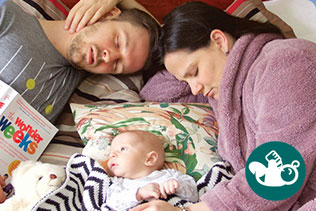 Making connections with other parents who are adjusting to having a new baby around is great for our mental health and happiness! You may feel a little shy at first, but our experienced group leaders will ensure it's a positive experience for you. You will pick up tips to make pregnancy and the first year of baby's life much more manageable- and meet people in the same situation as you.
Pregnant people, babies (crying is fine) and other children up to 18 months are welcome at ALL these groups. Carers, Grandparents and others also welcome. If you have older kids needing childcare please let us know.
Push!
One day interactive workshop to prepare you for having a baby. Run by experienced queer-friendly midwifery professionals and queer counsellors. Content includes preparing for birth, understanding and managing your birth experience, hints for the hospital stay, and the first few weeks at home with a new baby. ALL questions and perspectives welcome, safe inclusive environment. Lunch provided. Runs at DS head office at 100 Drummond Street Carlton.
---
Course Sessions