Families and Children Expert Panel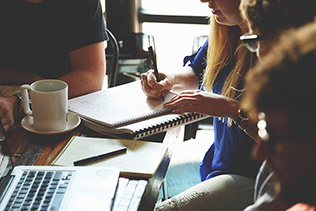 The Expert Panel Project funded by the Federal Government through the Department of Social Services responds to requests from Families and Children Activity service providers for support to plan and implement programs, evaluate outcomes. Also to share the results with others, in order to improve outcomes for families and children in Australia.
Services offered by CFRE to Family Service Agencies:
Consultancy Support: Tailored support to Family Service agencies seeking to build their capacity to plan for, and implement, evidence-based programs or to conduct outcome evaluations of their programs;
Evaluation Projects: CFRE will undertake evaluation projects to evaluate family, relationship and child and adolescent programs or services. CFRE has developed evaluation skills, methods and protocols relevant and appropriate to Family Service agencies;
Workshops: CFRE offer a range of workshops for Family Service agencies, on Program Planning, Implementation of Evidence-based Programs, and Outcome Measurement & Evaluation, with a view to advocating for and encouraging effective family practice;
Our team has high level skills, experience and extensive publication using systematic literature review and meta-analysis to determine and evaluate the evidence-base regarding different intervention types. We also have strong capacity to undertake comprehensive and rigorous international literature reviews for participant programs in a short time-frame, including where evidence is scarce or difficult to obtain. Where there is not yet systematically implemented or evaluated programs, there are other interventions identified as promising, early limited evidence-base or on sound theoretical presuppositions such as targeting of known risk factors that we can offer expert sector guidance. Additionally our team also has extensive experience in conducting Delphi studies – which result in expert consensus on interventions for action.CFRE's deploys Communities That Care (CTC) Ltd with US national licensing rights. CTC is an evidence-based whole-of-community model to prevent health and social problems and promote healthy development among young people (Hawkins, 1999). The CTC process assists communities to develop and maintain: clear organisation structures; competence in planning and implementing effective prevention strategies and; advocacy to redeploy funding into effective prevention strategies. The model undertakes community profiling regarding risk and protective factors, develops collaborative cross-sectoral partnerships, and matches and supports implementation of interventions from a suite of evidence-based programs. CTC methods was used in HNS and IYDS (longitudinal Australian national datasets regarding child and family development) and used in prevention planning across 30 Australian communities.
We also use a whole-of-agency implementation of a family services public health and early intervention framework/model to achieve population-level improvements in family well-being and outcomes for children. To achieve these outcomes, CFRE has utilised implementation science, and in particular the NIRN Implementation Framework to guide organisational change and to achieve key competency, organisational and leadership drivers to ensure effective implementation. The process has occurred over a number of years and has included the need to identify theoretical frameworks, select/develop evidence-informed interventions, identify process and population outcomes (Exploration and Adoption); to organisational restructure, development of a purpose-built data management system, revision of policy and procedures, identification of fidelity markers, adaptation of supervision methods, articulation of practitioner competencies (Installation Phase); and development of a management charter, adjustment of caseloads, improvement performance management strategies, and installing continuous quality improvement measures (Initial Implementation). We have extensive experience and commitment to strong and effective design, implementation and research-based practice within a rigorous risk and protective framework. This experience has resulted in canvassing numerous requests over the years from a diverse range of services nationally for implementation support and guidance. Our willingness and experience in offering support and sharing knowledge has given us a strong and credible national reputation, including with the Department who refer a number of agencies for implementation, intervention design and applied research support and training.
If you would like to find out more about how The Expert Panel Project can provide support to your Agency, please contact us:
Tel: (03) 9663 6733
Email: drummondsectorsupport@ds.org.au
Consultancy Services
drummond street services and Stepfamilies Australia have an ongoing collaboration with Deakin University in family research, program development and evaluation. Our consultancy services operates out of CFRE and aims at first reviewing and then developing a tailored program that builds capacity to implement and evaluate evidence based programs and outcomes in your organisation. We will conduct an evidence audit and then co-produce and co-design a program logic that fits with your agency.
If you would like to find out more about how The CFRE can provide support to your Agency, please contact us:
Tel: (03) 9663 6733
Professional Training
We offer professional training to facilitate a range of programs for families that aim to build capacity and support evidence based practice and negotiate the various transitions across the family life course.
Our industry training packages are designed to share experience and research with allied professions. We offer a broad selection of professional development sessions to workers in the health/welfare and family relationship fields such as:
What the family?! – supporting the transition to parenthood & early years (prices and packages available here)
Changing & Blended Families – supporting families as they negotiate major changes such as separation and divorce/ forming of a stepfamily (prices and packages available here)
Strengthening Families – whole of family approach to family mental health.
Queerspace – queer specific responses to family mental health & wellbeing
Parenting – seminar and groups designed to educate parents/carers around common parenting issues including (but not limited to) children who worry/ teenagers/ feisty children / raising happy, heathy kids etc. Click here to look at all our parenting courses which we also run as train the trainer programs for individuals or your agency
We include screening and assessment tools, tailored feedback and evaluation tools for facilitators as well as accompanying resources for your participants. Our resource packages are comprehensive and support professionals to confidently approach group work with families and individuals from a diverse range of backgrounds.Our commitment to working with academic partners to develop Family Intervention education for the sector means that we can provide training for professionals based on most topics relating to community, health, relationships and families, with training suited to the needs of your organisation. Our qualified and experienced team includes: family educators, psychologists, social workers, counsellors, family therapists, youth workers and community development professionals. We develop curriculum and provide professional development to a range of workers in the family services sector and beyond.
Our trainers have practical workplace experience, teach in a range of graduate and post graduate academic programs and are registered trainers with The Victorian Health Promotion Foundation (VicHealth) and beyondblue.
Get in touch with us to ensure a high quality, good value and effective training response tailored to suit your organisation.
Tel: (03) 9663 6733